Finally a new CD from Oregon: I have been listening to this group for ever. Practically the soundtrack to my life (alas not always appreciated by family members).
Anyway, excellent CD. The unmistakable Oregon sound composed of Ralph Towner, Paul McCandles, Glen Moore, and Mark Walker, is always familiar but ever new. Like fine wine. A grand example of Jazz music, yet also steeped in eclectic influences.
My favorite track so far is the title cut, "Family Tree". "Moot", written by Glen Moore is another. Glen really shines on this CD. "Carnival Express" is so exciting and surprising. Well, all of it is good.
Read a professional review by John Kelman at 'all about jazz' website. As Kelman writes, the sound from this is really amazing. Even from a Samsung Note phone, the sound projects and the instruments well defined.
I can't believe they have not had a Grammy yet. Yet, others can sing about human anatomical parts and become music moguls.
Oregon will finally perform on the east coast USA in 2013. Great, I hope I can make it.

Track List
1. Bibo Babo (Ralph Towner)
2. Tern (Ralph Towner)
3. Hexagram (Ralph Towner)
4. Creeper (Ralph Towner)
5. Jurassic (Oregon)
6. Family Tree (Ralph Towner)
7. Stritch (Oregon)
8. Mirror Pond (Ralph Towner)
9. Moot (Glen Moore)
10. Julian (Paul McCandless)
11. Max Alert (Oregon)
12. Carnival Express (Ralph Towner)
Links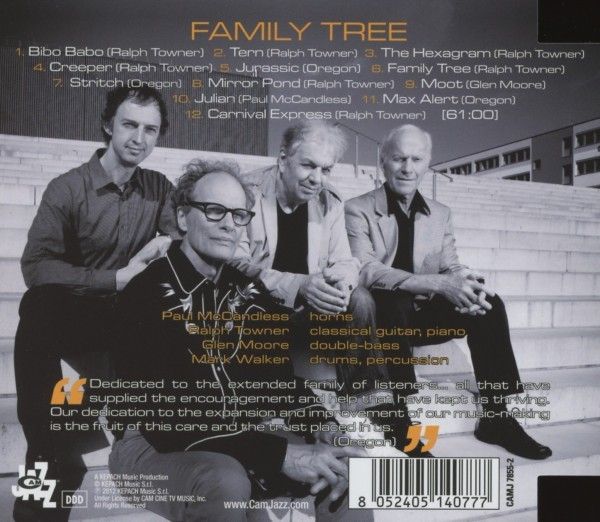 Mark Walker Drum Solo with OREGON San Diego


Oregon "Tern" Live in Tubingen 2012

Mark Walker Recording "Carnival Express" with Oregon:

This work is licensed under a
Creative Commons Attribution-NonCommercial-NoDerivs 3.0 Unported License
.